Together we give thanks for local partners who generously supported our services with food and supplies. Together, we can shine a light in our community!
A touch of luxury for our clients.
When Samantha from Be Genki learnt about the work we do at our Inner City site, she was quick to support us in the best way she knows how! Using 100% pure organic essential oils, all renowned for their calming properties that have been used to ease stress and anxiety for centuries, Samantha blended a 'custom blend' that our clients can use for moisturising and skin care.
In June we received 50 bottles of her special combination of organic prickly pear seed oil, organic marula oil and organic baobab oil which we cannot wait to distribute in our care packages.
Thank you Samantha & Be Genki for providing our clients with a touch of luxury!
Author donates books for clients in respite centre.

In April, we received an email from local author Meredith Resce. She had boxes of beautifully printed novels that she thought may be useful to our clients, many of whom are experiencing homelessness. Personally delivered to Wright Street in the city, around 100 of Meredith's books are now on the shelves at Baptist Care SA's Homeless Respite Centre. The Centre provides interim accommodation and care for people leaving hospital with no safe place to call home.
The Stamford Grand Adelaide donates 3 ute loads of food to Baptist Care SA.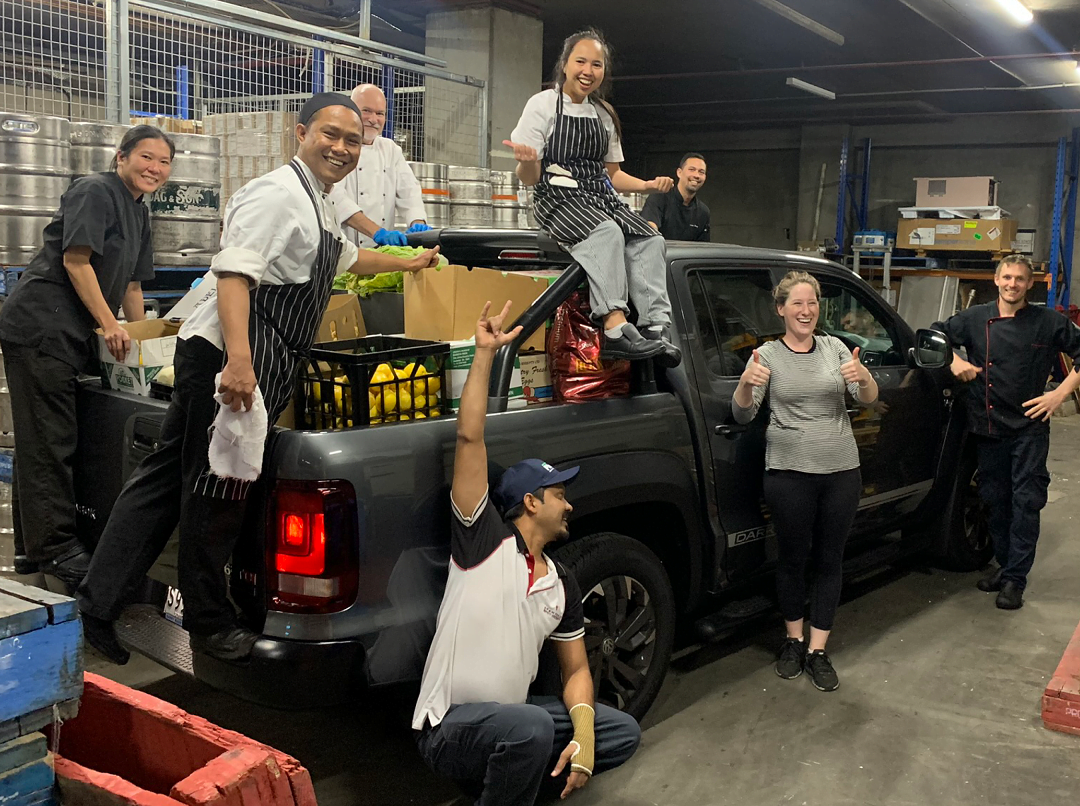 At the end of March, we were thrilled to receive a very generous offer from The Stamford Group. Like many other hotels, The Stamford Grand Adelaide was severely affected by the closures and cancellations resulting from COVID-19. Rather than see their quality produce go to waste, they contacted Baptist Care SA to donate large quantities of food for the WestCare Centre kitchen and Community Food Hub which provide meals and food parcels to people in Adelaide doing it tough.
Eggscellent Donation this Easter.
On Good Friday, we were delighted to receive an email from Fiona Fryar of KI Eggs. As producers of free range eggs on Kangaroo Island, they had been significantly affected by the sudden closure of cafés and restaurants due to COVID-19 restrictions. Fiona kindly offered her eggs to Baptist Care SA's WestCare Centre and Community Food Hub. Kitchen Coordinator Heather was thrilled to accept a weekly delivery of 5 boxes from Fiona and her team, and with 15 dozen per box, that is 900 eggs donated every week!
120kg of pre-cooked and frozen meals donated
We give thanks to the Adelaide Convention Centre who kindly donated approximately 120kg of pre-cooked & frozen meals to our WestCare Centre community in June. For six weeks (across May and June) we partnered with the Convention Centre in sourcing discounted pre-cooked meals from their kitchen to help us feed people in Adelaide doing it tough. We are extremely thankful for the extra support over this period and for the incredibly generous food donation that we were not expecting!