New Connections Inclusion Guides
The Lausanne Committee for World Evangelisation identified people with disabilities as one the most unreached people groups in the world. At Baptist Care SA we would like to change that.
In 2018 Baptist Care SA received support via the National Disability Insurance Scheme's Inclusion Linkage and Capacity funding is undertaking a project called 'Connections' seeking to develop the capacity of churches to engage, include, and create opportunities for genuine participation in community life for Australians living with disability.
As part of 'Connections' we held focus groups with people living with disabilities and their carers for the Connections project. Together they co-designed the content and photos for the 10 practical guides for inclusion. These guides use the voices of people living with disability to provide their top tips for inclusion, providing information, personal stories and examples that work for local churches.
1 Disability awareness: care for others. A community that sees the person and not just their disability, will discover the person's gifts and strengths, and create opportunities for meaningful participation in community life, click to download.
2 Intentional inclusion: we are better together. An inclusive church affirms, respects and values every person as a human being made in God's image. It has an open welcome to everyone as Jesus does removing barriers that disconnect people from each other and from God stop it demonstrates the gospel brings hope for all bringing together people with differing abilities as equals, because we need one another and we are better together, click to download. [1]
3 Accessible church: disability is not the issue, accessibility is. An accessible church allows everyone to join in independently and says "You are welcome here". Many features that benefit people with disabilities are also friendly to children, the elderly, and people with prams or walking aids, click to download.
4 Effective communication: relationships start with communication. One of the most useful ways to support people with disabilities is to communicate effectively with them and their carers, click to download.
5 Creating support: look out for one another's interests. Everyone needs people in their lives for authentic and mutual friendship. Social support is significant to our health and well-being, click to download.
6 Carers perspective: welcome and understanding. Family and carers can feel overwhelmed, tired, lonely and depleted. They also need to experience a community of support! Click to download.
7 Managing challenging behaviour: working together to find a solution. When we build on the strengths the weaknesses disappear, click to download.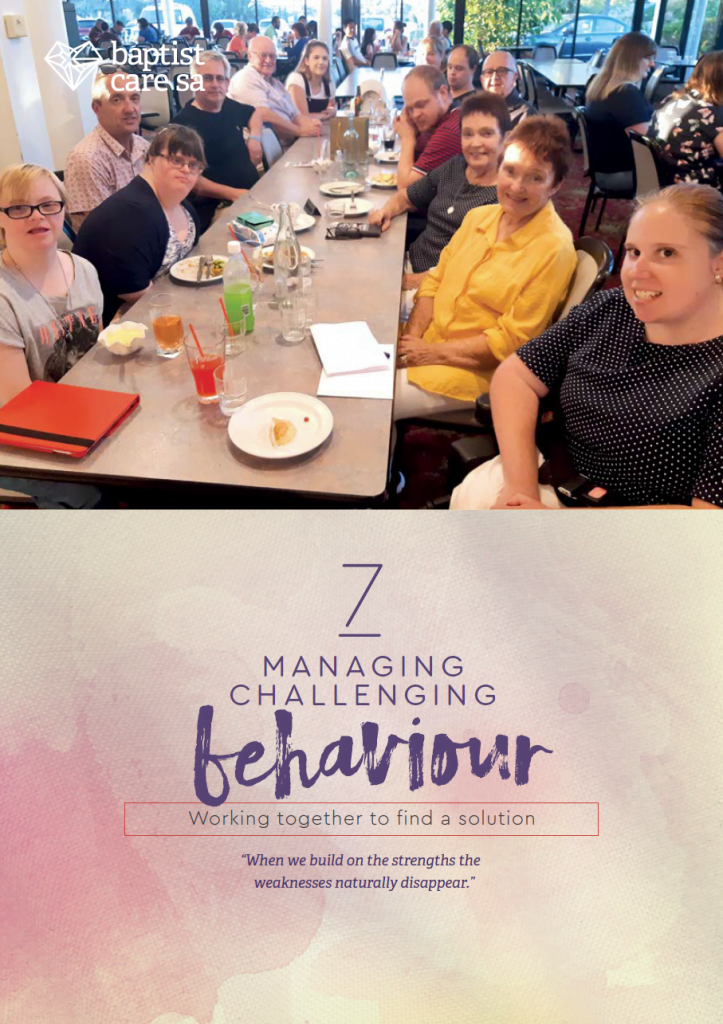 8 Connected community: promote your activities. So much of what we do in churches is readily accessible to someone with a disability, but we found many people in the community don't know all the programs our churches are offering! Tell us about the activities your church provides so we can join, click to download.
9 Autism-friendly church: Engage, affirm, challenge, click to download.
10 A theology of belonging: '.. .All one in Christ Jesus'. Your church is a community without division where everyone belongs. Click to download. To To extend your churches understanding of a theology of inclusion and actioning justice for people with disability we've created 'Belonging Together on Earth' which includes background information, a sermon outline, group discussion guide, prayer card and other resources. Click here for more information.
[1] 2 How to hold a Luke 14 Banquet, viewed 7 March 2019, www.morethangold.org.uk
Printed copies of each guide are available through Baptist Care SA Connections – building inclusive communities workshops. For information on hosting a workshop click here and to attend a workshop click here
Baptist Care SA's 'Church Pathways Team' can provide your church and your volunteers with specific training on how to be an 'informed friend' to a person living with a chronic condition/disability. Additionally, we have specific training to prepare your church (Prepared to Share) and your informed friends to effectively include and support a person living with mental health disorders (Sharing Together).
You can find out more here or email us at [email protected] to discuss your specific training needs.
Baptist Care SA's Mylor disability-friendly campsite has accessible accommodation and activities, click here to find out more.
Baptist Care SA is an NDIS approved disability services provider.
Additional Resources
These additional resource lists are a compilation of some of the resources that the people we have been working with found helpful and may assist your church as it develops its inclusion capacity. The list is not exhaustive, neither is it an endorsement of any proffered perspective. It is a resource provided in good faith.
Websites change their layout all the time, so you may find a link doesn't work. We suggest if a link isn't working copy and paste it in the search engine search bar and try that way. If it still doesn't work go to the home page and search in the internal search line of the website. If you know of additional resources that you have found helpful, please let us know so we can share them and keep the list useful and up to date. You can email [email protected].
For more information about the Connections Project, click here
For more information or enquiries, please contact:
Baptist Care SA Church Pathways Team
T: 08 8273 7100
[email protected]
Click here for Baptist Care SA's information on the Intellectual Property, Copyright and Disclaimer for accessing and using these resources.