"It's hard to make your children's Christmas wishes come true when you are homeless."
Kate* sat upright on a borrowed couch in her sister-in-law's house, her children asleep, one snuggled next to her, the other blanketed on the floor. The clock had struck 2:00 am, and as she looked at her children a wave of anxiety came over her just knowing this was going to be a desperate and lonely Christmas.
No home, no partner, and not even enough money to bring joy in the gift of a toy for her precious children this Christmas.
With Christmas just around the corner, it's so sad that we see families stressed with the expenses of the season and separation from family and loved ones. We see parents who feel distraught and ashamed that their children will be going without. Feelings of loneliness and isolation are intensified.
Together, we can give

Hope

!
Baptist Care SA provides compassionate assistance and practical support to families in need restoring dignity and hope to those who need it most.
When you support a family through Baptist Care SA, you will be helping to provide for families who would otherwise wake up on Christmas morning with little or nothing under the tree.
This Christmas, we invite you to be a part of something incredible. Bring hope to a family just like Kate's through the Baptist Care SA 2021 Christmas Hope Appeal.
May you have a wonderful and blessed Christmas with your loved ones this year.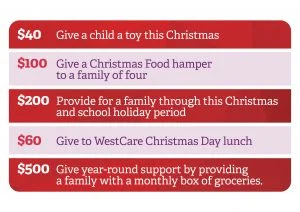 Turn hurt into Hope this Christmas

DONATE NOW to make your gift.
If you'd like to know more, do contact us on 8273 7100 or email [email protected].