"Social connection is why we're here: it is what gives purpose and meaning to our lives" Prof Brene Brown, University of Houston, Graduate College of Social Work
How our community stepped up under COVID-19 conditions to keep each other safe and provide essential services.
Our community has been rocked in recent months by the impact of COVID-19. Simple tasks became challenging and relationships moved to arms-length.
Keeping everyone safe in the face of growing demand and heightened tensions is hard work. It takes committed, skilled and experienced workers, a bit of ingenuity and a lot of help from our community.
Our heartfelt thanks to everyone who supported our community in this unprecedented time.
"Coming to WestCare is central to my day. I'm really looking forward to being able to sit down and chat over lunch. The staff are doing their best to keep an eye on us. They are regularly ringing those of us who have mobile phones to check we're okay – and trying to find phones for anyone without, so they can keep in touch." Joe, WestCare client.
Conversation and face to face contact is at the heart of being human. Being deprived of this is particularly tough if it's the only opportunity you have each day to have a chat. Sharing a meal in the courtyard or dining room at the WestCare Centre is often our clients' only social contact.
Determined to continue to provide two meals a day, six days a week, we were delighted when Adam Liston and the team at Shobosho Restaurant in Leigh Street, offered to cook for us, using the ingredients we supplied. With our volunteers forced to stay home to keep safe, this was a lifeline to our kitchen staff.
Everyone entering the courtyard is greeted with a warm 'Hello'. After screening to ensure everyone is COVID safe, a hot drink keeps people warm as they join the queue for a nutritious take away meal.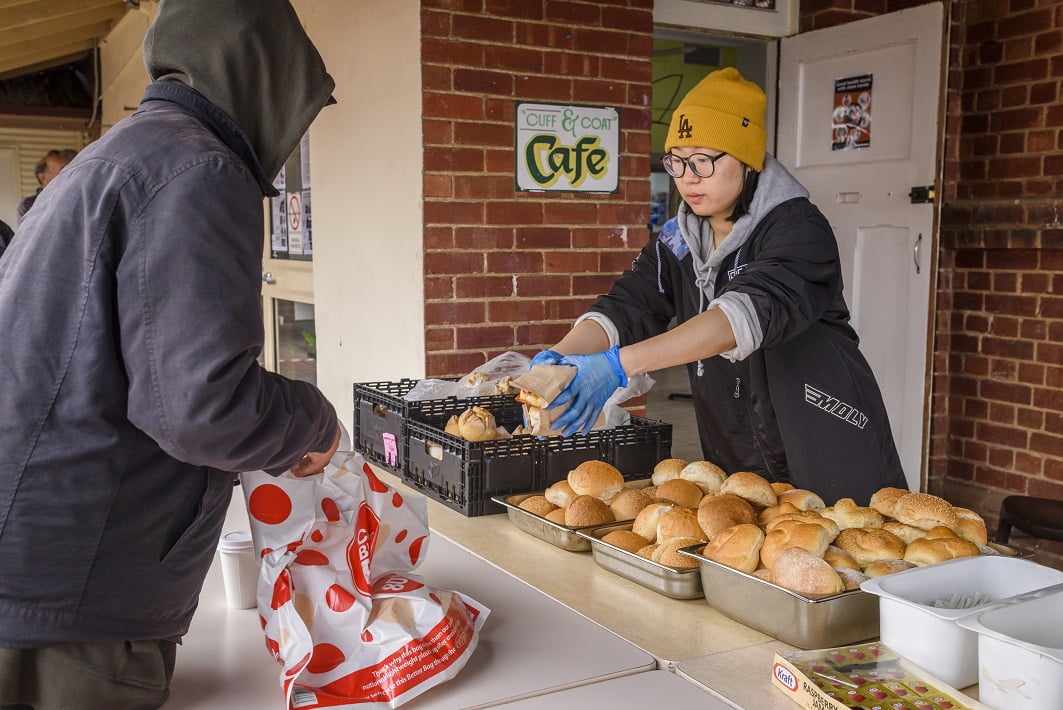 Answering the call for help – a group of Social Work students from Flinders University now come in daily to assist with serving takeaway breakfast and lunch.
Conversely, the garden in the WestCare courtyard is blooming! Over the last few months a group of volunteers and staff have been working hard on creating new garden spaces. Their bright, cheerful colours make such a difference!
Your donation will help make someone's day and provide a vital 'hand up' in a time of crisis.
Thank you for caring.
T. 8273 7100 E. [email protected]